Forum Homini Hotel - Hendrik Marais by Robyn Alexander published in Opulent Living Southern Africa, Issue no5


Want to tick the Cradle of Humankind - a World Heritage Site that has produced some of the world's most important archaeological finds - off your list of the planet's ,must-see places? Then you' ll be happy to discover that the perfect place to stay over has (like Homo sapiens) already fully evolved.
The Forum Homini experience begins with the unique architecture, which alludes to the fascinating story of the history of mankind. Its award-winning Roots restaurant opens up to a wide deck with
tranquil lake views. Here the innovative Roots team creates dishes that are essentially French with subtle African and Asian influences. The menu changes daily and each course is matched with complementary wines.
The hotel has 14 luxury suites - cut into the earth, with grass-covered roofs, evoking a feeling of luxury cave living . Each suite features a fireplace, stalactite lights and a kingsize bed enveloped in a romantic tulle canopy, and leads through a waterfall of sparkling coloured beads that cascade over the doorway to a large glass-roofed shower. A lu xurious bath for two is set in the lounge so you can bathe in bubbles whi le overlooking your own private patio and the pristine bushveld, where antelope and zebra graze peacefully on the distant hills beyond.
At Forum Homini, every visit is a journey of discovery, and after eons of bipedal locomotion our species can now put its feet up! This is luxury living beyond the mists of time.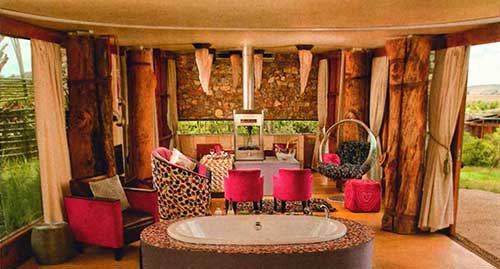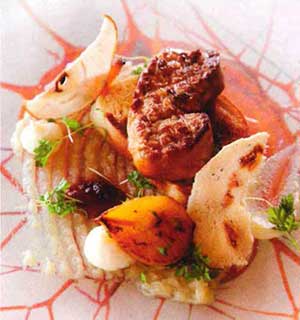 Letamo Game Estate, Muldersdrift,
Cradle of Humankind, Gauteng, SA
Telephone: +2 7 (OJ 11 668 7000
Facsimile: +27 (0)11 668 7010
Email: This email address is being protected from spambots. You need JavaScript enabled to view it.
Website: www.forumhomini.com